Welcome to Road Apple Acres Horse Rescue.  We sincerely appreciate your interest in our facility and how you can help us take care of these gentle giants.
Our Mission: Road Apple Acres is a nonprofit 501 (c)(3) organization dedicated to the prevention of cruelty to animals, especially horses.  Horses should have safety, peace, and dignity throughout their lives. Our commitment is to give them the respect, care, and love they deserve.
Why Your Help is Important to Us!  Our first rescue here was in 2005.  It is hard for us to ignore the conditions and training practices that put many horses in need of help.
Funds generated go mainly for feed, haul water and veterinary care.  If rehabilitated, horses are "re-homed" with a supervision clause.  Or sponsorship's are available (horse stays here), public support donations help their care expenses.
Dignity is retirement here, to live out their days until time comes for a humane burial and not be subject to a slaughter-bound Hell!
We currently have 9 permanent resident "special needs" horses, 6 goats and 6 rescued dogs in our herd. The Board votes on acceptance, Negative Coggins quarantine and full ownership transfer of horse for R.A.A. So, if you have a heart to lend a helping hand, donate funds to this cause, you have our herd's heartfelt thanks!
RAA is not a "Rescue" for healthy horses (we are not in the business of flesh peddling), nor for those outgrown in home value, or as a summer whim. Responsible guardianship of a species (horses can live 30-40 years) also entails final arrangements. We do not "Rescue" your conscience, if you have had the horse for decades and now think I should euthanize it for you. Incoming applicants are by board member vote on circumstance and rehabilitate ability. We are a non-profit corporation, so we are able to take public donations: cash, gift certificates, hay bales, sack grain, medical supplies and towels are all greatly accepted.
Board members help clean corrals and fix shade corrals. Some volunteers help shed them out in the spring. We attempt to help terminal adults in their "Make a Wish" with horses.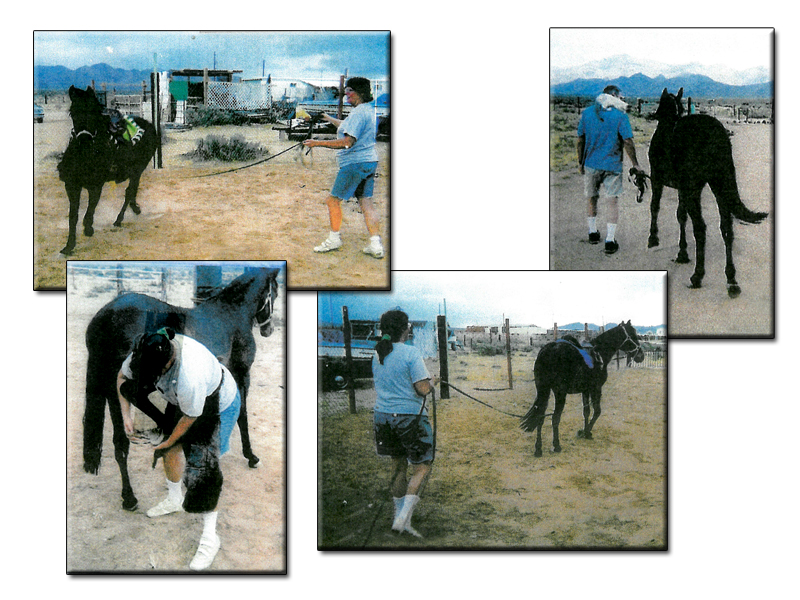 Future goals: Teach shoeing to probationers or parolees (or training). Summer fund raising has been mobile pet grooming services, donating all fees to our rescue, for hay and deed (we need to stockpile before hay prices skyrocket again from $13 a bale to $18 and up. We haul water (penny per gallon with our ancient diesel pickup) and manage somehow. Every dollar is greatly appreciated, one can even sponsor one of the herd as a monthly sustaining donor (say a bale a week). Always open to fundraising ideas like a car show, horse wash, kiss the equine booth.
Got a CDL License?? Pennsylvania and Illinois hay goes for only $3 to $4 per bale.
We would love to see legislation to make shade to be provided for horses. Clark County voted last year and passed shelters required or is a code violation for animal abuse.  Starvation should not be end result of keeping a horse. Cruel training methods should be reported too (dragging behind trailer, to teach to lead).
We are asking for actions you can take for a more humane community.
Click here to learn more about the Safeguard American Food Exports (SAFE) Act S.541

Please Contact Midge Britton for more information: (928) 249-0247
Like us at facebook.com/roadappleacreshorserescue
Arizona Corporation Commission #1866506-9, Registered nonprofit 501 (c)(3) organization.

Public Disclosure and Availability of Exempt Organizations Returns supplied upon request.